Department Of
Pharmacology
Facilities for Teaching & Learning
The undergraduate training in pharmacology has been revolutionized with the adoption of newer teaching tools like computer-assisted learning. It has got unique presentational benefits, helps in personalized learning, and helps in achieving the ultimate goal of higher education.
The Department of Pharmacology has a museum with 30 crude drug specimens and numerous plant and drug charts. While introducing the discipline of Pharmacology to the undergraduate students, they are made aware of this museum and students visit it as a part of the introductory session. It also enables the teachers to help increase participation in the formal, structured, curriculum-driven model encountered in the classrooms.
A medicinal plant garden has been developed on the campus. The garden houses 55 varieties of medicinally important herbs, shrubs and trees spread in a well-defined area. This well-developed medicinal plant garden provides a strong impetus for herbal drug research and to impart training to undergraduate students.
Year
MBBS PASS %
2015-16

96

%
2016-17

77

%
2017-18

90

%
2018-19

84

%
2019-20

87

%
2020-21

88

%
Our institute is a designated Pharmacovigilance centre. Pharmacovigilance is one of the important post-marketing tools in ensuring the safety of pharmaceutical and related health products

.

Both known and unknown ADRs are collected from various departments of our institute and sent to the regional centre, IGMCRI, Puducherry, for further action. 

We undertake advisory responsibilities, development of policies and procedures, formulary management, prescription audits, and promotion of strategies to improve medication use and medicine safety through the pharmacotherapeutic committee. Regular sensitization programmes are conducted for doctors, PGs, interns, pharmacists, staff nurses, lab technicians for their effective implementation.

In the Clinical Trial Unit, the faculty of the department are involved in the functioning and the conducting of clinical trials with the various clinical departments of our institute.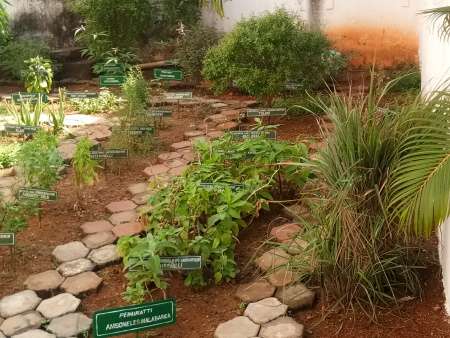 The department of Pharmacology of AVMC is maintaining a beautiful Herbal garden in the campus since 2008, which is a live museum of more than 50 different varieties of medicinal plants including endangered and rare medicinal plant species.  All the plants are labeled with their botanical & vernacular names enabling students to get knowledge in the taxonomy and identification of the local plants of medicinal value. The herbal garden provides valuable information on various plants and act an external lab for  students and scientific researchers to explore various herbal research and find out the other than the folkloric claims.
This unit was established to conduct clinical research in AVMCH. It is specialized biomedical research unit which design, centrally coordinate and analyse clinical trials following on specific phases & types of clinical trials. AVMC Clinical Trial Unit comprises of Site Management Office, including reception, sample collection area and data storage room and separate clinical trial ward. These units act as supporting departments for the principal investigators and sponsors by providing guidelines based on the SOP, and advice, archiving study-related documents, and maintaining a database of ongoing trials in the hospital. It supports in conducting the CTRI registered trials in various specialties in our hospital, almost 60 eligible principal investigators showed their interest to participate in systematic clinical trials.