Department Of Forensic
Medicine & Toxicology
The department is currently providing training for the undergraduate students of III & IV semesters of II MBBS as well as V & VI semesters of III MBBS in the areas of Forensic Medicine and Toxicology, which also includes Medical jurisprudence (Medical Negligence, Medical Ethics) and Forensic Pathology. Lectures, tutorials, and practical classes for MBBS students are taken for more than 100 hr/year per batch. The department also extends its role in teaching and training the Undergraduates students of B.Sc., Forensic Science
The department has modern amenities with well-planned and furnished faculty rooms and offices. It is equipped with computers, laptops, internet facilities, departmental research room, an outstandingly organized museum, a full-time operational staff library, and a huge student laboratory in association with the Department of Pathology, a spacious demo room with OHP, LCD projectors which can comfortably seat about 75 students.
The department has a separate mortuary block with modern equipment and instruments. At present, apart from unblemished undergraduate teaching, training, and research for 21 years, the department is now planning to serve society by performing round-the-clock medico-legal autopsies and embalming services in a well-equipped manner.
The mortuary is located 10 meters away from the main college block, adjacent to the department of Anatomy. The morgue is sufficiently measured and is provided with two dissection tables with a well-equipped viscera storage room and a cold chamber amenity for preserving 8 bodies at a time. The mortuary block has the capacity to undertake two cases at a time and can accommodate 60-70 students at a time. Autopsy workload will be undertaken by the faculty and technical staff members of the department in the near future.
The department is planning to take up a post-graduation course (MD) in Forensic Medicine from 2023, for which recognition will be sought from National Medical Council (NMC). The postgraduate students will be trained in medico-legal works, including autopsy, casualty services, medico-legal documentation, exhumation, court procedures, etc.
Inter-disciplinary academic activities collaborating with departments such as the Department of Pathology, Community Medicine, Forensic Science, Paediatrics, Forensic engineering, etc are also taken up. At present the department guides in the issuing of wound certificates, examination of drunkenness cases, etc. The department is planning to take up clinical forensic medicine work in the form of examination of victims and accused in cases of sexual assault, age estimation, etc. It also plans to conduct training programs for the police, lawyers, and medical officers regularly.
The department is vibrant and has conducted many CMEs, workshops, and conferences to date. The department is unique in the sense that it has self-learning modules and the department also has a state-of-art museum having a wide collection of articles in the form of weapons, poisons, charts, models, specimens etc, providing an ideal platform for learning. The department conducts research that helps update the subject speciality. It gives an orientation towards legal matters to the medical fraternity.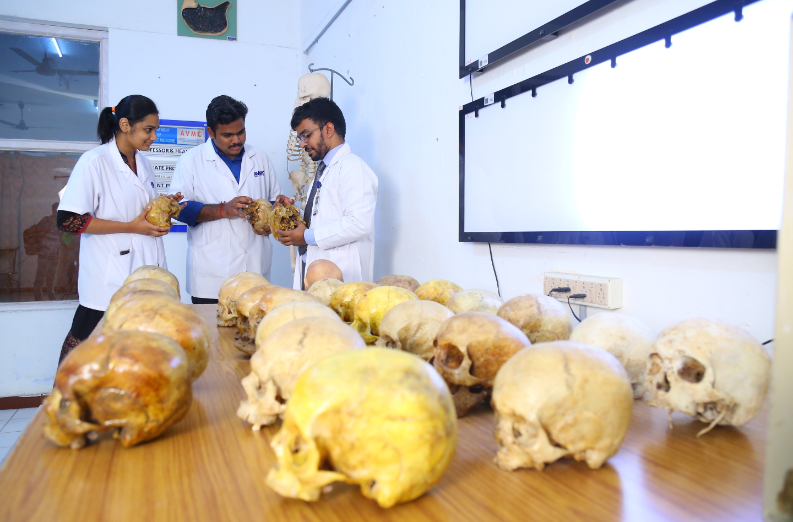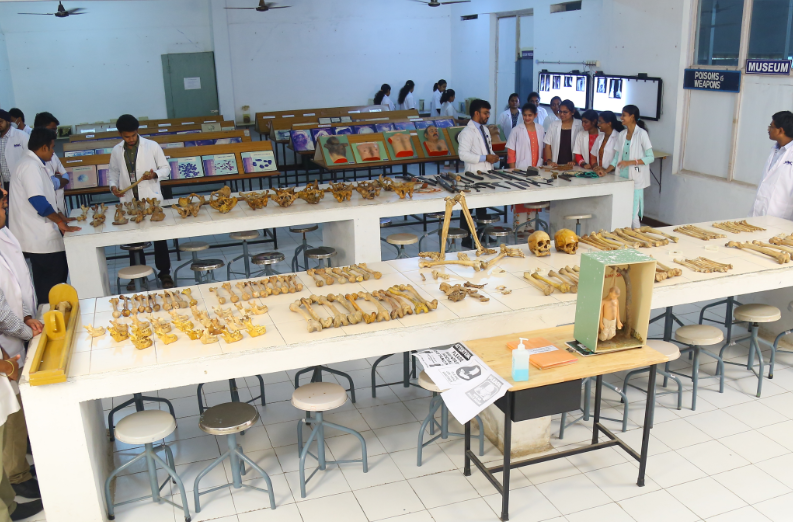 The Department of Forensic Medicine offers training to MBBS students of 2nd and 3rd year. We are also planning to start postgraduate courses (MD Forensic Medicine & Toxicology) in the near future. In addition to this, we also render teaching, learning and evaluation for the B.Sc Forensic science course run by the School of Allied health sciences.  
The department also provides three value-added courses to UG students:
Clinical Forensic Medicine & Toxicology

Moral Narration

Medical Negligence – Current practice & Future perspective
Using E-tools (Google forms, easy test maker, kahoot) for formative assessment

Flipped classes

Hands-on training for autopsy procedures.
UNIQUE FEATURES OF THE DEPARTMENT
One of the unique and old, completely digitalized QR coded Forensic Museums in Puducherry, in existence since 1999.

Uses various innovative methods, such as self-learning modules, integrated teaching interactive sessions, role plays, mock court and hands-on training sessions for undergraduates.