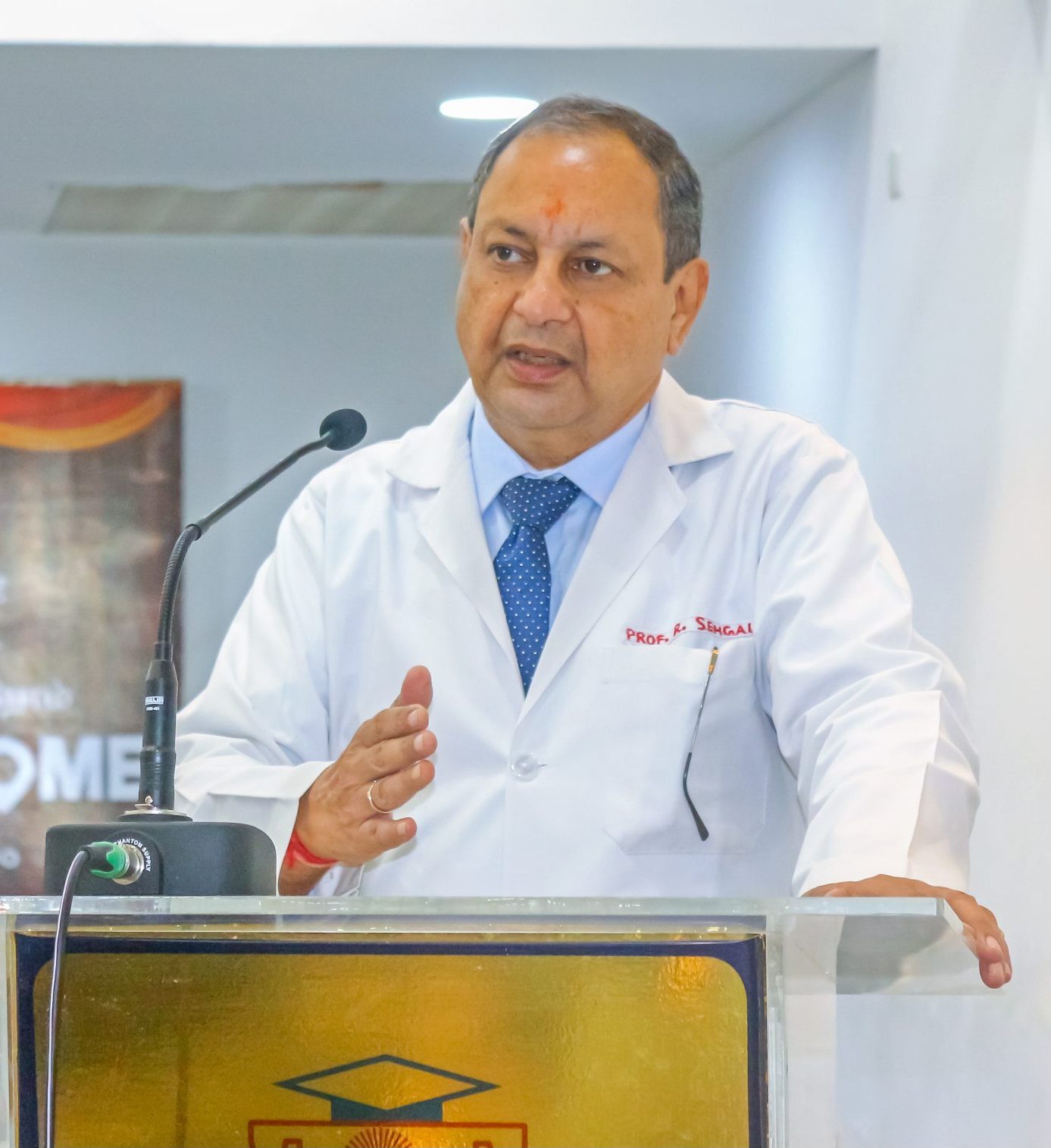 Prof. Rakesh Sehgal
Dean, Aarupadai Veedu Medical College & Hospital
Prof. Rakesh Sehgal, Dean for AVMC&H, did his schooling at St Edward's School, Simla, Himachal Pradesh and then MBBS from HP Medical College, Shimla. (Now Indira Gandhi Medical College, Shimla). He did his MD (Microbiology) from PGIMER, Chandigarh and after that joined there as Senior Resident and faculty. He rose to the position of Head of the Department of Medical Parasitology, PGIMER, Chandigarh and then the Sub-Dean (Research) and Dean (Academic), PGI, Chandigarh.
Prof Sehgal has a total experience of 40 years in his field and has an administrative experience of about 20 years. Recently retired as Dean (Academic) and Senior Professor (HAG) & Head, Dept of Medical Parasitology, PGIMER, Chandigarh, he has been Chairperson, Group D Departments PGI, CSIC (Central Sophisticated Instrumentation Cell) PGIMER and Chairperson and also a member in Various committees dealing with the purchase and other administrative matters at PGI, Chandigarh for the last 20 years.
He was Nodal Officer: a) AIIMS, Bilaspur, Himachal Pradesh and was Instrumental in starting MBBS on campus, Nodal Officer, Satellite Centre of PGIMER, UNA, Himachal Pradesh.
In addition, he has worked as Director of Central Research Institute Kasauli HP, on deputation from 2002 to 2006 and restarted all vaccine productions. When He joined CRI, Kasauli in 2002, all vaccine production was at a standstill. He restarted all vaccine production and also increased to meet the demands of the country.
Mentioned below are the few coveted achievements of Prof Rakesh Sehgal:-
Prof Sehgal has to his credit more than 300 publications in International and national Journals. 
He has 04 patents to his credit. 
He has more than 1100 Gene bank sequences in the international database
During his tenure as Dean Academic at PGI, Chandigarh, he was instrumental in reviewing the various curricula to introduce problem-based learning, encouraged the introduction of new courses, especially super-speciality courses, increase MD/DM seats in various Departments, worked and helped to improve conditions for residents of the Institute, streamlined PhD entrance exam and made criteria clearer and more transparent, and helped in creating the course curriculum of MBBS course to be started by PGI soon.
Prof Sehgal is vice-President/Member of various scientific bodies and an expert on scientific panels, journal editorial boards etc
Prof Sehgal has been honoured with 07 international and national awards for scientific excellence and public health work. His students have also won innumerable awards for presentations in international fora.